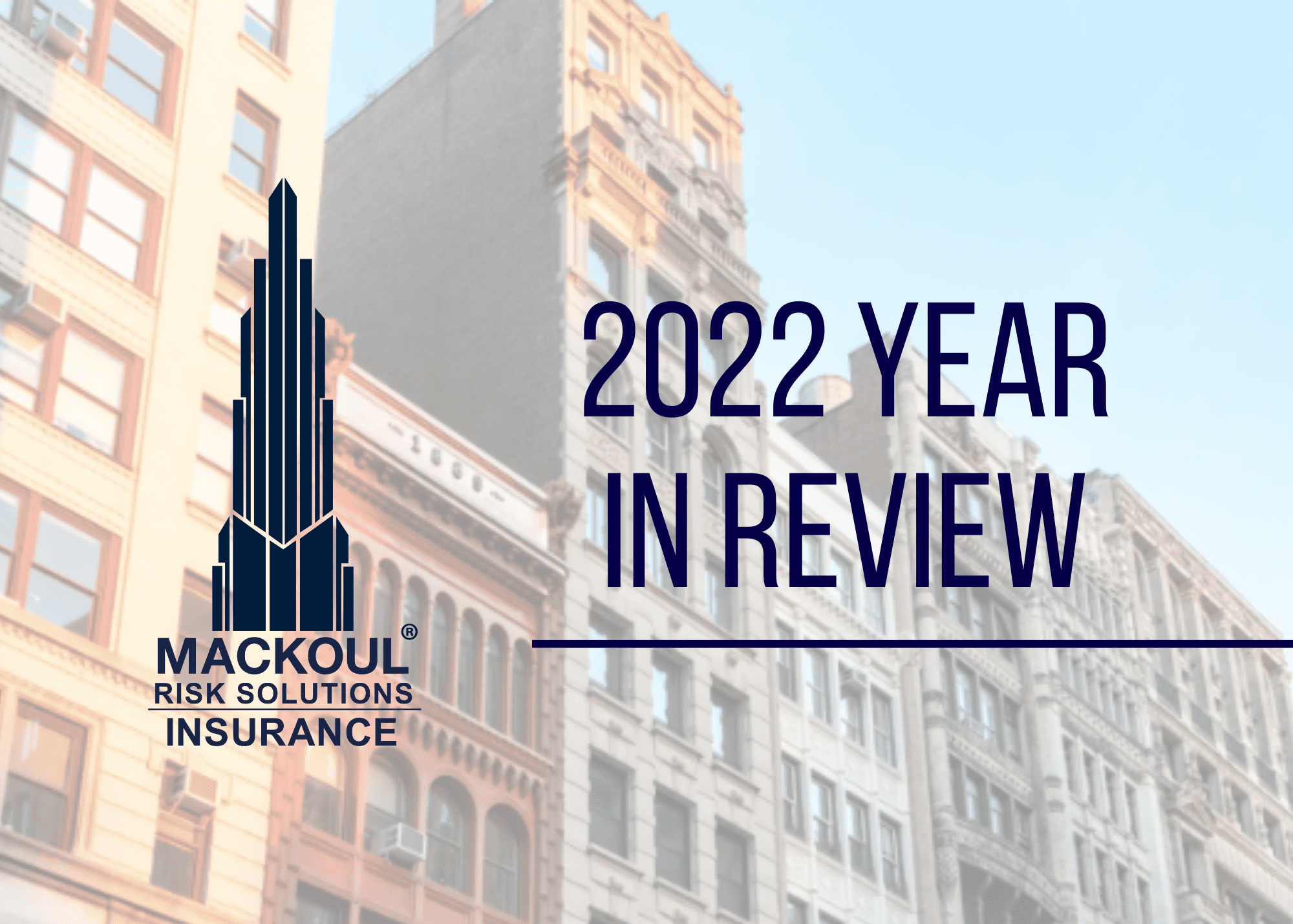 To Our Clients,
You have given our agency the job of insuring what is important to you, and we are honored by your trust. We want to keep you involved in how we did as an agency, as the stronger we are, the more apt we are to live up to your expectations. In addition, we feel that communication is extremely important, so we want you to understand some of the areas that affect the insurance industry that you may not be aware of as the world has been dealing with COVID, inflation, an extremely volatile stock market, and many other issues the past few years. As an agency, though, we persisted and prospered, which in the long run, benefits our clients.
Agency News
The agency's premium volume grew from $73,921,824 at the end of 2021 to $84,624,857 at the end of 2022. Growth of 14.5%. All organic. Well higher than the industry standard, which is in the 7-8% range.
Our bread and butter is habitational insurance. Always has been and always will be. What is that? Insurance covering the properties where people live. Community associations like co-ops, condominiums, homeowners associations, and apartment buildings. We wrote 118 new community associations (co-ops, condominiums, and Homeowners Associations) and apartment buildings in 2022. We now insure over 1,500 community associations and 150 rental properties totaling over 1,700 just in New York and New Jersey. Try and find another retail agent like us who insures that many!
The agency continues to be extremely profitable. We are in trust and always will be. That means we make more money than we spend. Sounds like common sense, right? You would be surprised to know that there are insurance agencies out there who are out of trust. They basically pay Peter with Paul's money. Over the course of time, this catches up with them. Other agencies continue to grow, but unlike us, the only way they can do so is to buy other agencies. The best way to grow is to grow organically and slowly. Quick growth is rarely good and leads to service issues.
The Big I named us a Best Practices Agency for the fourth year in a row. The Big I (a.k.a. Independent Insurance Agents and Brokers) is a National Trade Association that strives to provide independent insurance agents and brokers with support to maintain excellence in business and customer service. They hire an independent consultant to review all insurance brokers across the country to see if they qualify. Each nominated agency must submit extensive financial and operational data for review. Any firm that qualifies represents the highest performers based on their growth and operational excellence. This year, only 284 agencies across 44 states qualified as Best Practices Agencies, and we were one of them!
Our own Amanda Petrylka was named Outstanding CSR of the Year for the state of New York by the National Alliance for Insurance Education and Research. That means they elected her the most outstanding Account Manager in the state of New York. That's old news to us, as we already knew how amazing she was, but now the rest of the country does! This is an award you can't pay for; it's not a popularity contest, and we don't have anyone at the publication that we know. The award is based simply on merit and must be earned by the recipient, including having to write an essay on a topic chosen by National Alliance. Not to toot our horn too much, but our own Sarah Schnepf won it in 2021, and Cheryl Fitzpatrick won the award in 2020. I don't think there's any agency in the country that can say they have two award winners, let alone three in three consecutive years!
We continued to get lots of press because of our knowledge in the community association field. Myself, Cheryl Fitzpatrick, Courtney Ferretti, Samantha Tucci, and Gina Corso were featured in various publications.
In 2021 we formed a premium finance company called MIS Premium Financing to help our clients pay their insurance premiums in installments. It took off in 2022, financing over $14M in insurance premiums at rates lower than most finance companies could offer. Another benefit for our clients!
We received 36 new reviews across Google, Facebook, and Yelp. We now have 136 reviews with 4.9 stars on Google, 89 reviews with 4.9 stars on Facebook, and 53 reviews with 5 stars on Yelp.  Not bad, not bad at all!
We hired a number of new employees in 2022 – Melissa Vetere, Hannah Warriner, Nicole Gomez, Alexandra Perone, Joshua Chaffey, Nicole Muller, Brice Reynolds, Lisa Page, Catherine Gibson, Kate Wilson, and my youngest son, Kevin Mackoul, joined the agency, and they all made an impact. As we grow, we continue to hire as we want to make sure you continue to receive amazing customer service. I am sure you will get a chance to meet or speak with them in the near future.
The beautiful building we had our office in was sold in the last few days of the year. We were able to find high-end, albeit smaller, space in 214 West Park Avenue in Long Beach. Does that address sound familiar?  It should. That is where our office was located until 2009, when we outgrew it. With the addition of remote work, many employees work from home most of the time, and several employees are remote 100% of the time, so less space was desirable.  Productivity has been up, way up since we started allowing the staff to work from home.  You can be assured that you'll continue to receive the outstanding service you've been accustomed to!
Our Chief Operating Officer, Sally Dolce, celebrated 25 years with us.  She is one of the reasons for our continued growth every year, as she does an amazing job of running the agency.  Happy 25th Sally!
We collected donations for those in need during back-to-school time and Thanksgiving, and several staff members participated in races for charity.  We continue to give back to the community!
As more and more co-op and condominium buildings require their owners to have homeowners insurance, we formed a separate department to monitor homeowners insurance in the building.  The task of monitoring who has insurance and whether it meets the necessary requirements is a daunting one for boards to handle, and it's unfair to expect the property management firms to handle it for the same reason.  Let professionals like us handle it.  Not having to worry about the headache is well worth the fee!
Commercial Lines:
2021 was one of the toughest years in the insurance industry; habitational insurance was hit hard, and 2022 was even worse!  The insurance industry has been in a hard market for four years now, and the end may not be in sight. In 2023, Property rates are expected to increase because reinsurance companies (insurance companies for insurance companies) are raising their rates because of many natural disasters, which is going to force the insurance companies to pass this on to their insureds. In addition, because of inflation, supply chain issues, and other factors, the cost of building materials such as brick, concrete, and steel all have increased, which means replacement value of the buildings has gone up. You can be assured that the insurance companies are going to increase the Building Limits and get their premium dollar, so budget accordingly!
We know that every habitational risk should have a Commercial Umbrella, but the days of all of them being able to get a high-limit Umbrella are gone. In 2021, insureds having a $50M was a rarity, and insureds were opting for limits of $15,000,000 and $25,000,000 because that's what was affordable. In 2022, many insureds couldn't even get those limits and had to settle for $1M, $3M, and $5M. Until more carriers or programs come back into the market to write Umbrellas, prepare for more of the same in 2023!
Personal Lines
Unlike the commercial marketplace, the personal arena had been stable for the past few years, but that side has now entered the hard market as well. Early in 2022, the personal lines market started off strong; insurance carriers were still accepting new business, renewals were seeing small rate increases due to inflation, and, most importantly, clients had options. As we started to approach the end of the 2nd quarter, we started to see a shift in the market. Insurance carriers, primarily home insurance companies, started to pull back. They became very strict with underwriting guidelines and loss recommendations on inspections. Around this time, we started seeing large premium increases on renewal policies; some carriers were as high as 30%. By the last quarter of 2022, many insurance carriers put a moratorium on writing new business, with no word on when they would re-enter the market. This reduces the number of options for clients. We hope things change in 2023 but will prepare for the worst by reviewing other options to offset premium increases, such as increasing the policy deductible.
On the bright side, after having retention of 95.9% in the Personal Lines Department in 2021, the highest in agency history, we ended up with 97.6% retention in 2022.  The industry standard is between 85% and 90%, so I think that tells you a little about the customer service we provide!
Technology:
After years of doing Mackoul School classes in person, we had to make them Zoom classes once COVID hit. As they have become more and more popular, people want the ability to take them when they want to, whether it be at 9 AM or 9 PM, so we uploaded our first one and will unveil it shortly, which will allow anyone to take the class when it is most convenient for them. We intend to have the rest of our classes online this year.
We began dabbling in the Metaverse!  Our own Kara Ryan designed a beautiful conference room in the Metaverse, where we have meetings, and also designed a spot that we will begin opening up to our clients to visit in 2023.  Each staff member has their own Oculus helmet, so if you ever want to meet them in virtual reality, let us know. We might even get you an Oculus and show you how to meet us!
In 2021, we gave clients and prospects the ability to go on our website and obtain instant quotes for small business insurance, Home and Auto Insurance, D&O, Crime, Cyber, Life Insurance, Dental and Vision.  In 2022, we added that link to several management firms' websites, so they could offer their owners and tenants a quick quote. If you need a quote, we've got you covered.
Employee Benefits
Not to be left behind, our Employee Benefits department continued its year-over-year growth with Rebecca Scandaliato leading the charge and helped by Danielle Klemm. Specifically in NY, small group (under 100 employees) health insurance is community rated. That means health insurance companies are required to charge the same price for coverage in select regions regardless of age, gender, occupation, or health status. So, there is no differentiation in pricing from broker to broker. The differentiation boils down to service, and we are the best of the best. Our value-added services have set us apart from our competitors. We offer our clients an:
We also provided an HR Solution, including access to Live HR Support, Compliance Documents, Handbook Builder, and Workplace Harassment Training to many of our insureds. Our clients lean on us when it comes to labor law audits and compliance issues. These time-saving and compliance-based tools have contributed to the continued growth in this department.
We look forward to another year of earning your trust and helping you insure what matters most to you.