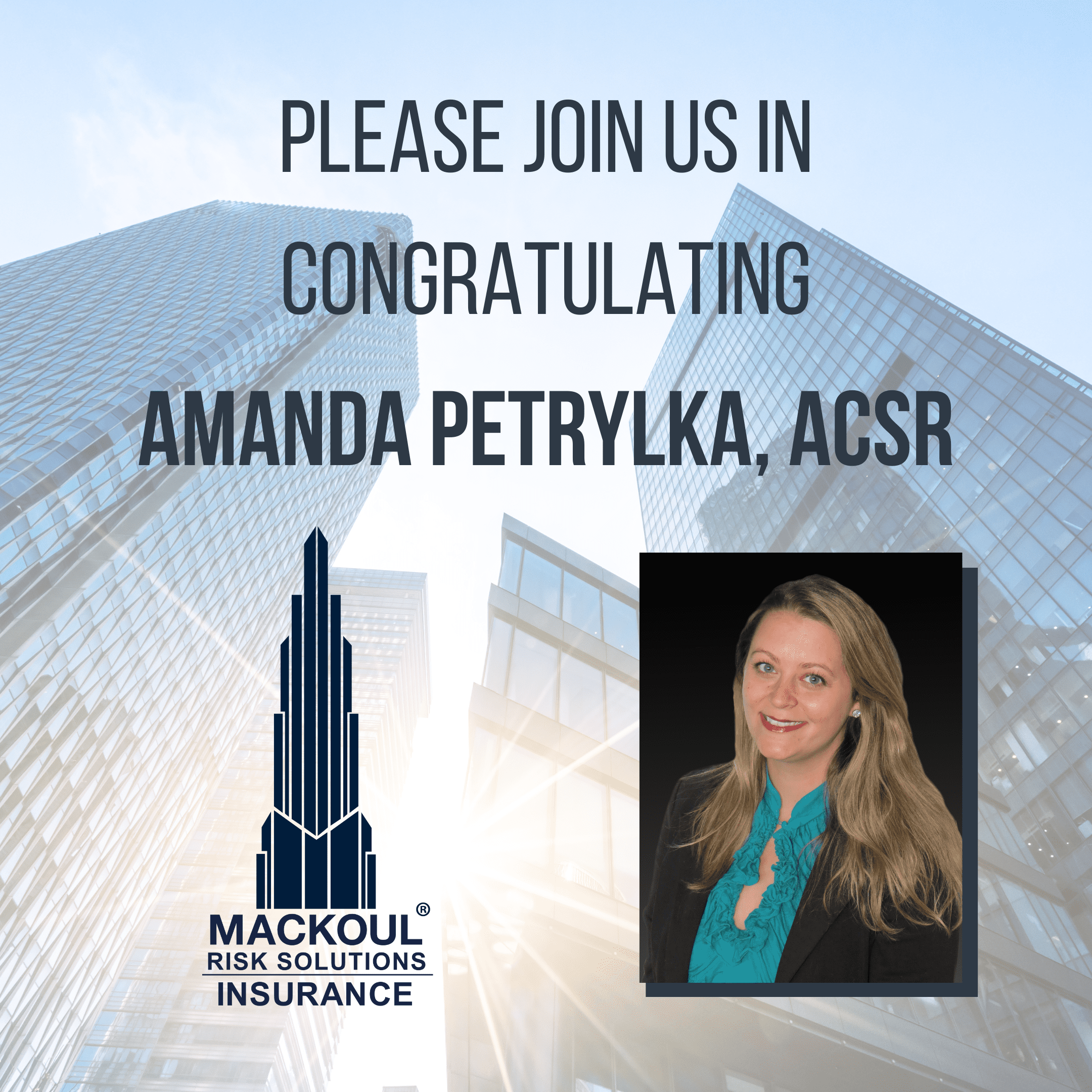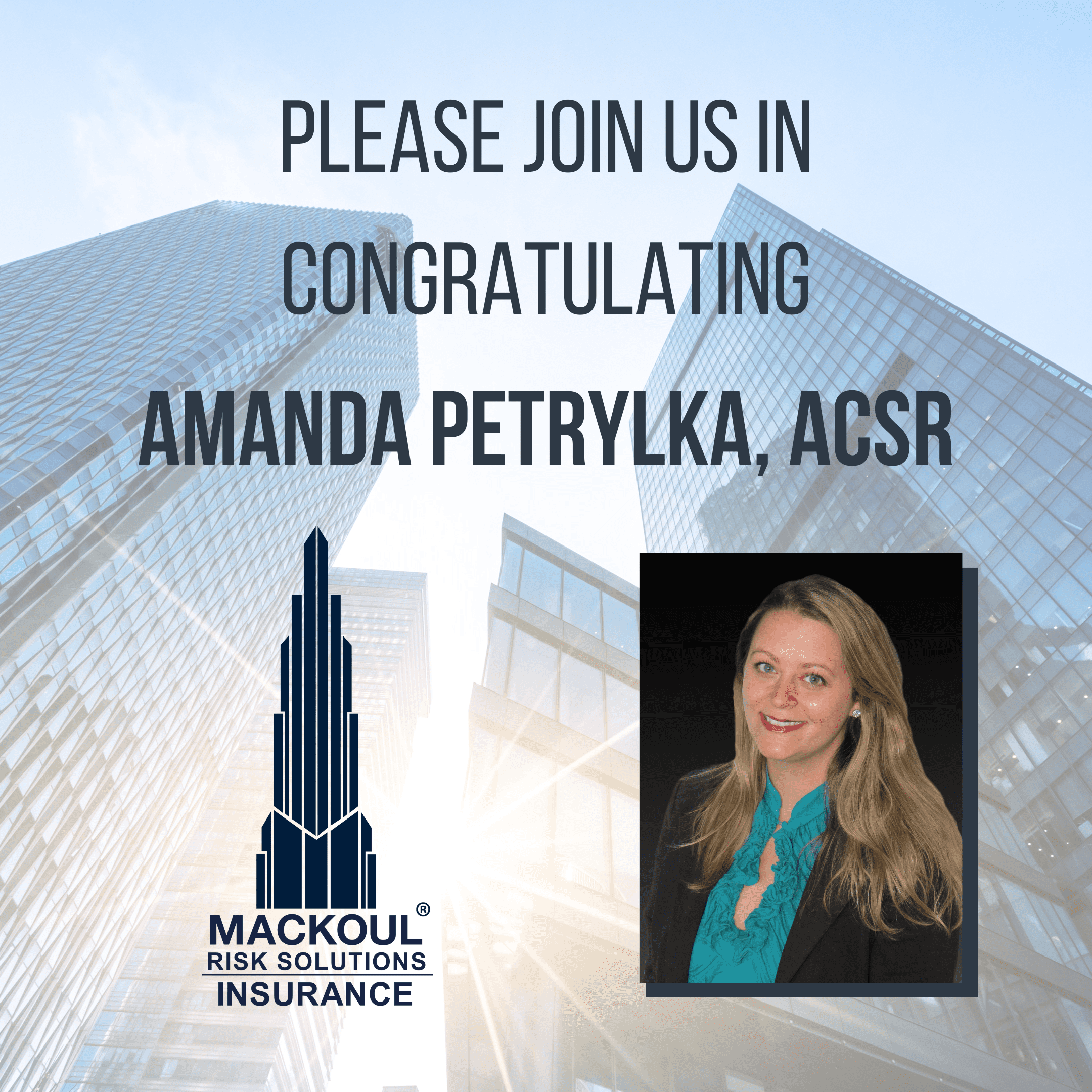 Presented by the National Alliance for Insurance Education and Research, The Outstanding CSR of the Year award is regarded as the foremost national award of its kind. It recognizes the contributions and commitment of those who serve clients within the insurance industry.
We are thrilled to announce that Mackoul New Business Account Manager, Amanda Petrylka, has been awarded 2022's Outstanding CSR of the Year for the state of New York! Amanda is the third consecutive member of the Mackoul team to take the title, after Cheryl in 2020 and Sarah in 2021.
Read on for the essay that won Amanda this prestigious title, as she shares transferable skills she has learned throughout her life, and how she now uses them each day in the insurance world.
The insurance industry genuinely requires a broad set of skills. Communication, the ability to work as a team but also independently, patience, resolve, the ability to manage and handle stress, and empathy; to name a few. The insurance professional should be able to think outside of the box and adapt as the industry is constantly changing. That is something I like best about working in insurance, the ebbs and flows, the constant challenge. For this reason, we as customer service representatives use a wide variety of skills, from all walks of life, to be successful.
I had been an athlete throughout my childhood and most of my adolescence. Being a part of a team for
a competitive sport has certainly lent skills that I still use in my career today. Communication: it is vital when playing a game of volleyball or softball but also as a customer service representative in the insurance industry. We must be able to communicate with our teams/colleagues, our clients, and our
carriers. We ought to be strong in our communication. It reminds me of my softball coach growing up.
He would drill into us that if we plan on catching that ball, we had better be clear about it. Having been part of a team in one way or another for over 20 years has molded me into the woman I am today.
At my Agency, we value communication. We have weekly meetings just to touch base; anyone can bring up anything in these meetings. Team building events are another means to enhance communication and we have many! Working with your colleagues to solve problems or puzzles does make it easier to communicate in our day-to-day. Communication may be even more important in the days of Zoom.
Early on in my tenure at my Agency, I remember our President leading our meetings and stressing the
importance of communication. Not just your words but the tone in which you deliver them, your body
language, and even the way you type an email. He was a big believer in the idea that the way we
communicate can and will determine building successful relationships, whether with clients or other
professionals. This has resonated with me and it is something I consider daily.
In college, I interned at several human services-type facilities. One remains in my mind as having taught me the difference between listening to respond and truly listening with an empathetic ear. This is an essential skill when it comes to being a customer service representative. There are times we are hearing from our clients during what can be an extremely stressful and tragic time of their lives. If we are listening just so we can respond to them then we are not doing our job. Not to say we should not respond, of course we should! However, when you are truly listening your response tends to lean more
toward the empathetic than robotic. This can be the difference between building a relationship with a
client or not.
Education has always been a passion of mine. To be honest, before I worked in insurance, I wanted to be a high school history teacher. I considered myself a perpetual student; I truly enjoyed class and absorbing information. Education in the insurance industry is paramount. Guidelines and laws are
forever changing. A love of learning will only help one succeed as a customer service representative in
this field. Not to mention, it is a requirement as a licensed property and casualty broker to take classes
and renew your license every three years.
Our Agency holds education in high regard, and it is evident. I am lucky to have worked here for the past 10 years. They sponsor each one of us for any class we wish to take. This is a rare and valuable perk that only helps me to better myself in my career and that is something I am grateful for.
I love the concept of an open-door policy. That is something I adhere to gladly, whether in person at the office or via Zoom, or over the phone. This can be metaphorical or literal. We just need to be available to our colleagues, especially newer ones. Helping others learn only helps the individual hone their own skills. At the same time, we also must be able to ask the questions as well as we answer them. It's here we get to expand on and share our existing communication, empathy, and love of learning skills all at once.
Bouncing ideas off our peers is the best way to be successful; both as an Agency and as an individual. Sharing concepts, constantly looking to better myself through learning, and being a sounding board for those around me; these are mindsets I strive to live by.
Congrats again, Amanda, on this wonderful recognition!