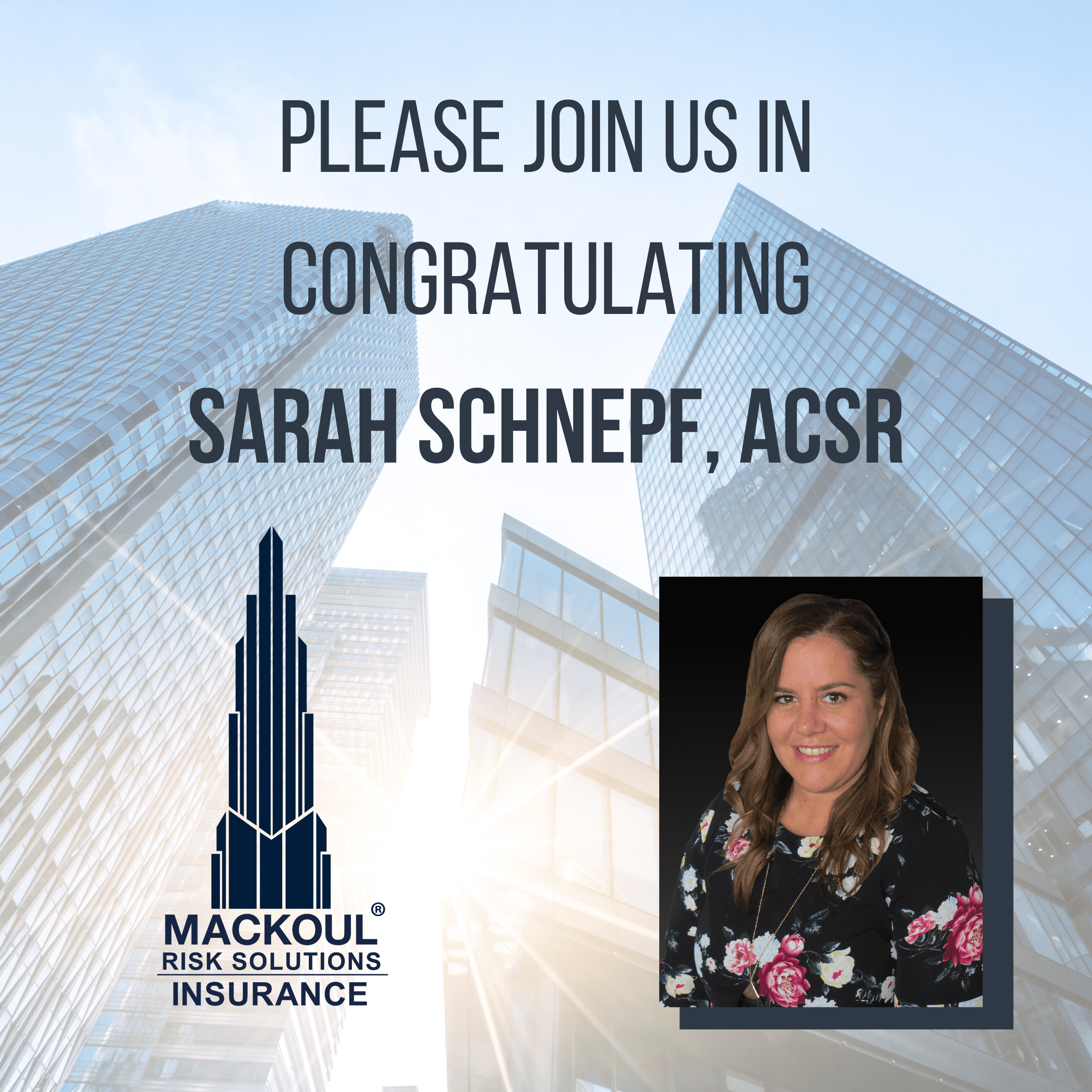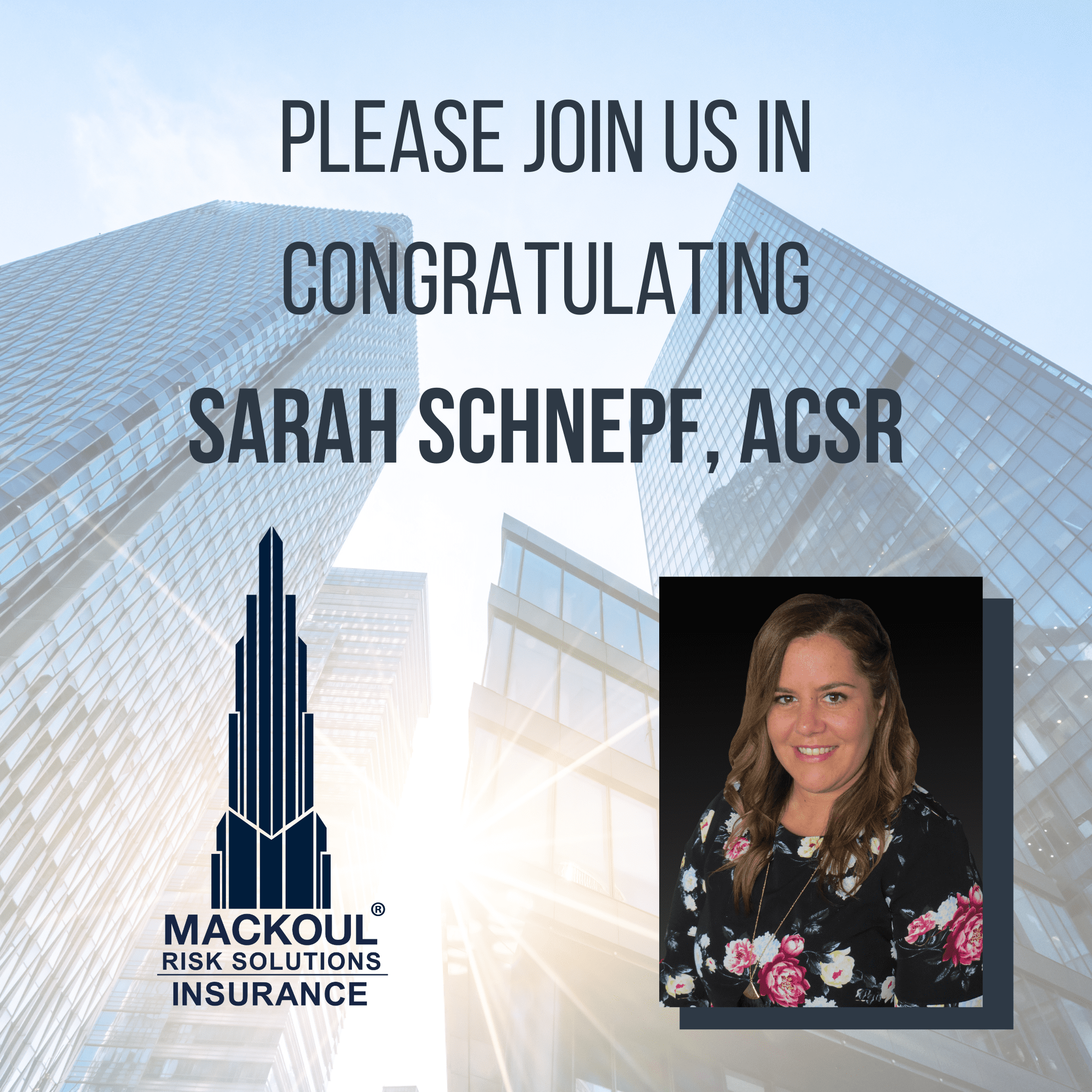 For the second year in a row, one of our very own has been recognized with a huge honor.
Presented by the National Alliance for Insurance Education and Research, The Outstanding CSR of the Year award is regarded as the foremost national award of its kind. It recognizes the contributions and commitment of those who serve clients within the insurance industry. We are thrilled to announce that Mackoul Senior Commercial Account Manager, Sarah Schnepf has been awarded 2021's Outstanding CSR of the Year for the state of New York! Read on for the essay that won Sarah this prestigious title, as she shares her take on the most challenging year of her insurance career.
Each year the insurance industry changes, but this year was different. Not only did we have to prepare for the hard market, we also had to adjust to the changing umbrella market as well as the impacts of Covid-19 on the insurance industry. We have navigated the hard market before and have been successful in explaining to our clients why their premiums were on the rise. However, the hard market was not our biggest challenge this year. We saw the umbrella market change dramatically, carriers pulled out of the programs causing rates to double, if not triple and some programs fell apart. As news broke of these changes, Covid-19 reared its ugly head and from there on, we knew this would not be like any year we have seen before.
"Insurance is a business about people." That is something that drives us and influences everything that we do. We are driven by passion and grounded by experience. Therefore, we needed to be honest with our clients. We could not sugarcoat what we were seeing and hearing in the industry. Our clients needed to know what was happening but more importantly, that we are doing everything we can to make sure they received the best possible rates for their insurance needs. Our clients trust that we are using every available resource to properly protect them, while also working hard to navigate the challenges we were facing.
Coverage for high limit umbrellas was very cost-effective for years. Buildings could carry $100,000,000 in umbrella coverage for a minimal cost. This all changed as we entered 2020, which prompted us to do our renewal reviews 120 days in advance, rather than our usual 90-day process. Carriers began to back out of the market, premiums that were steady for years doubled, programs that have been in place for years crumbled. We began to strategize on how we can make sure our clients are covered properly without paying significantly larger premiums from what they had seen the previous year. We utilized our Marketing department and sent out blasts and social media postings explaining the challenges of the Hard Market, what we were facing with the Umbrella changes as well as Covid-19 information and how this was affecting insurance carriers. We had open dialog with our clients to prepare them for what was to come.
Our primary goal as Customer Service Representatives is to make sure our clients are properly protected, while also providing them with an incredible customer service experience. While rates were going up significantly and carriers were reducing coverage, we had to reexamine each insured on an individual basis to make sure we provided them with what they needed. Our clients are not only expecting large premium increases, but they are also experiencing business issues due to Covid-19. People are unable to pay their rent, insureds are worried about lawsuits stemming from Covid-19 and everything seemed so uncertain.
We needed to streamline a process to ensure we marketed each client to various carriers in order to obtain the best pricing and coverage available for their individual needs. This meant working longer hours, attending Zoom board meetings to explain coverage changes and premium increases and relying on our team members to assist us with our everyday tasks as well as implementing new workflows to make sure our clients are receiving the best available options.
In addition to the above challenges, we as an agency faced the challenge of working from home. Personally, I am a mother of two small children and had to adjust to a work-from-home/ life balance. I was taking work calls while trying to care for my children. What I learned was the typical 9 to 5 workday was no longer the norm. I had to work evenings and be accessible to help my clients beyond the traditional 5pm-close.
It was trying at times to overcome one obstacle and the next week be faced with a new one. As an Agency, we needed to focus on how we could meet our goals as well as help our clients meet theirs. We prepared, adapted, and adjusted. These three things allowed us to reimagine our day-to-day workflows so that we could continue to be the trusted advisors our clients deserve. I am fortunate to work for an organization who gave us the flexibility and tools we needed during the pandemic to continue to provide exceptional service to our clients.
While this year has been the most challenging year of my career, it has also been the most rewarding. Adapting to the challenges thrown at us, adjusting our sails to overcome them while still providing top-of-the-line service was our goal and we achieved it in addition to a 96% retention rate. It has been an exhausting year but our Customer Service Representatives have done and continue to do an outstanding job and with all of the hurdles we have had to get over this year, we have all learned the importance of how trust, honesty, and hard work is the foundation to success.
We are so proud of Sarah for this great recognition! Cheryl was New York's Outstanding CSR for 2020, Sarah for 2021… who will it be in 2022?! We can't wait to find out!!
Congrats again Sarah!!