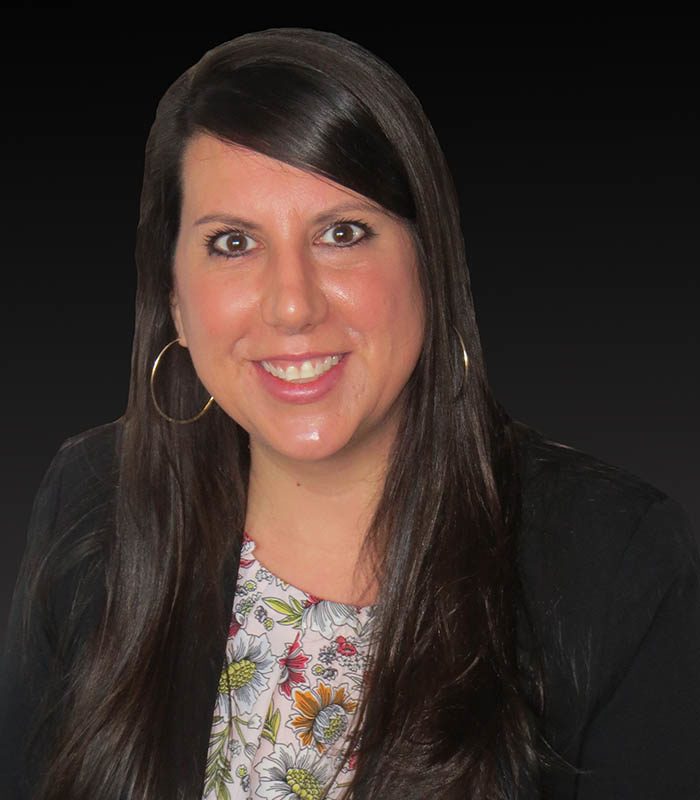 Courtney Ferretti, ACSR
Vice President of Carrier Relations
Call or Text Courtney
Courtney Ferretti
 is the Vice President of Carrier Relations at Mackoul Risk Solutions with over 15 years of insurance industry experience. Courtney has received her Property & Casualty license and ACSR designation during her employment. She is currently pursuing her CPCU designation and has completed six of the classes.
Prior to her employment at Mackoul, Courtney worked in an accounting role in the insurance industry. She also has management experience in the banking industry. She received a Bachelor of Science Degree in Finance from Hofstra University.
What Our Clients Are Saying About Courtney
"It is with much enthusiasm that I recommend Courtney Ferretti, for her knowledge, ability, and diligence in the field of Insurance. Since inception into my current position four years ago,  she's shown exceptional communication skills, a professional demeanor, and the consistent desire to hone and excel at her craft.
Courtney is extremely reliable, dedicated, and exuberates a vivacity on a daily basis while handling all types of issues and arising concerns. Her unparalleled ability to handle a high-volume workload and multitask effectively is one of her greatest attributes. I've been consistently impressed by her attitude, productivity, and knowledge of all items pertaining to my portfolios insurances. It is without any reservation that I recommend this brilliant woman, as I'm confident that she will establish productive relationships with your Boards and staff."
"Our Account Manager, Courtney Ferretti, goes above and beyond and continuously provides the association with excellent service – which in turn makes my job so much more enjoyable. Working for one of the larger property management companies in NJ, we are proud to recommend Mackoul Risk Solutions to our clients based on our experience with them and their professionalism. If you're looking for an insurance broker to be on your side – Mackoul Risk Solutions is the agency for you. Well done Mackoul!"
"Courtney worked hard to get us the best possible quote and had it to us by the date we requested. Thank you."
"Courtney Ferretti goes above and beyond always – she is helpful, professional, and cheerful in her tasks."
"You customer service reps, especially Courtney Ferretti, are always exceptional and have gone the extra mile with all my inquiries/needs."
---
---
Featured In…
Habitat Magazine,  "Better Safe Than Liable"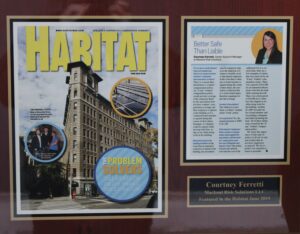 Habitat Magazine, "Problem Solved: Handling the Hard Insurance Market"
Habitat Magazine, "Problem Solved: Reckoning with a Hard Market"
---
---
Get To Know Courtney
 What gets you fired up about coming to work?
I wake up every day ready for a challenge. I love writing new business and rounding out accounts.
What's your biggest success to date at Mackoul Risk Solutions?
Being promoted to Senior Account Manager, obtaining my ACSR designation, and passing six CPCU classes.
Why did you go into insurance?
A friend of mine told me how great her job was at Mackoul Risk Solutions, so I applied. It is the best professional decision I've ever made.
What character trait do you most admire?
Someone who is trustworthy.
What is the best advice you have ever been given?
Knowledge is power!
Describe your typical day at Mackoul Risk Solutions.
Binding accounts, helping clients and co-workers, selling policies, etc.
Describe yourself in three words.
Hard-working, responsible and trustworthy.
What is the one thing you cannot do without?
My family.
Can you share your favorite quote? What does it mean to you?
"Be who you are and say what you feel because those who mind don't matter and those who matter don't mind."- Dr. Seuss
What's your favorite travel spot?
Aruba.