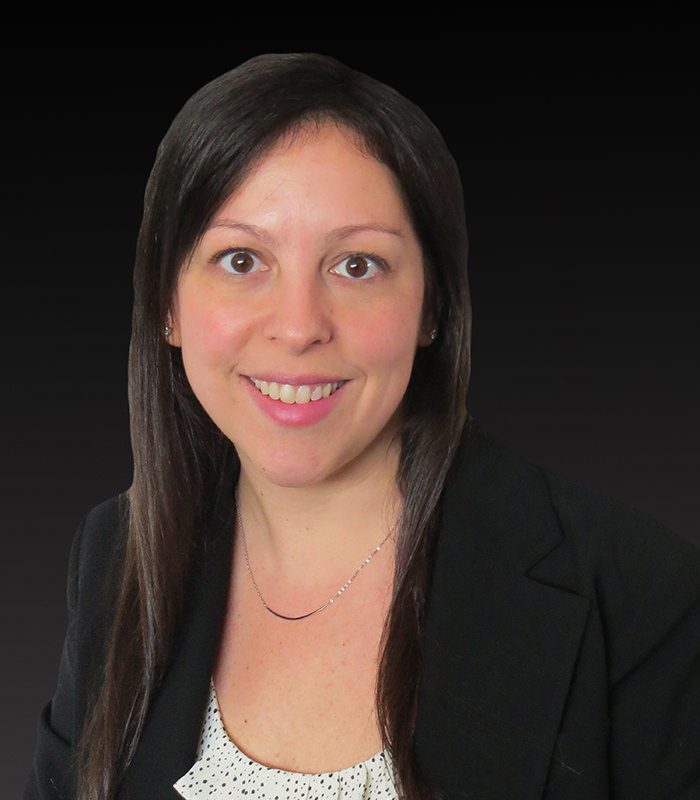 Gabrielle Fisher, CPCU, ACSR
Vice President of Production
Call or Text Gabrielle
Gabrielle Fisher
is the Vice President of Production and has been with Mackoul since 2007. Gabrielle was integral in the opening of the Florida office and spent a year in there training employees on Systems and Procedures.
Gabrielle graduated from Molloy College and received her Bachelor of Arts Degree with a Major in English and a Minor in Communications. She holds licenses in both Property & Casualty and Life and Health Licenses. She received her ACSR designation in 2013, and her CPCU designation in 2020.
She enjoys spending time with friends and family and going out to dinner.
What Our Clients Are Saying About Gabrielle
"Gabrielle is very helpful and responds super fast. She is patient and takes her time to explain things."
– Client since 2015
"It is such a pleasure working with Nicole E. and Gabrielle F. They are not just responsive but the most knowledgeable brokers I have worked with."
-Client since 2020
Get to Know Gabrielle
What does your title mean to you?
I am very proud to be Vice President of Production. I feel I have worked hard over the years and really enjoy my position. To me, the title means a lot, and I am proud to be a manager in this great organization.
What gets you fired up about coming to work?
I love the diversity in my job. I do not do the same thing every day and get to work very closely with the staff. I also get to work with such amazing people every day who are truly my friends. There is never a boring day.
What's your biggest success to date at Mackoul Risk Solutions?
My biggest success was moving to Florida for a year to help get our Florida office up and running. It not only helped me grow in my position, but it helped me grow as a person.
Why did you go into insurance? What do you enjoy most?
When I graduated college, I was given the opportunity to come work for this agency. My plan was to work here until I decided what I wanted to do. After the first few weeks, I knew I was at home and never looked back. I enjoy helping to create workflows and procedures, the sales side of the business, and being able to work closely with my co-workers on a daily basis.
What advice would you give to someone interested in starting a career in insurance?
I would say that it is a great career to have. Everyone needs insurance, you are always learning, and there are so many great people in this industry.
What's your favorite song on your playlist? Why?
Anything with a fast beat that you can sing along to, work out, and dance to.
Who would you most like to meet and why?
Betty White because she is a wonderful role model whom I admire.
What character trait do you most admire?
Honesty
What is the best advice you have ever been given?
Try to be positive, the negatives in life will only make you stronger.
Describe your typical day at Mackoul.
Helping to manage the production in the office, training, answering questions, and assisting the COO.
Describe yourself in three words.
Trusting, patient, and caring.
What is the one thing you cannot do without?
My family.
Can you share your favorite quote?
Don't walk in front of me, I may not follow. Don't walk behind me, I may not lead. Walk beside me and be my friend.
What's your favorite travel spot?
Anywhere Caribbean.
If you had to eat one meal every day for the rest of your life, what would it be?
Soup