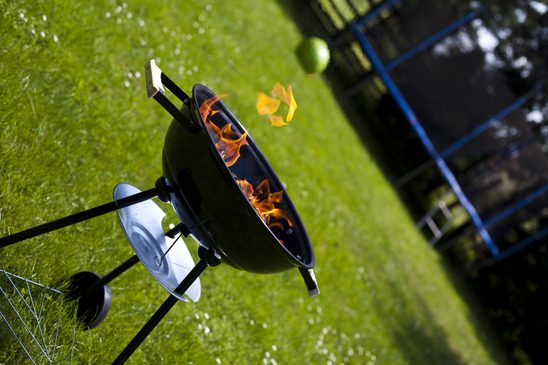 Outdoor grilling is a great way to cook food, but its fire risks shouldn't be underestimated. Grill fires account for more than 5,000 fires on residential properties each year, according to the U.S. Fire Administration.
These fires result in an estimated average of 10 fatalities, 100 injuries and $37 million in property loss each year. Fortunately, there are several simple measures you can take to protect against accidents and injuries while grilling.
Here are a few suggestions to get you started.
Before using your grill, read and follow the manufacturer's instructions.
Position your grill on a level, non-combustible surface more than 10 feet away from your home. Be sure to keep your grill away from deck railings, bushes and trees and away from overhanging branches and roof leaves.
Don't use your grill indoors or inside any other structure that could catch fire, such as a garage, shed, tent or gazebo.
Inspect the burners, igniter and gas cylinder hose to ensure they're in good condition, with no cracks or blockages.
Identify any gas leaks by applying leak detection solution to the hose. If there's a gas leak, bubbles will form around the hose when you turn the gas on.
Avoid drinking alcohol when in charge of a grill.
Never leave the grill unattended.
Keep a fire extinguisher close at hand for emergency use.
Always ensure children and pets stay away from your grill.
If you smell gas while cooking, turn off the gas and burners. If the leak stops, get your grill serviced by a competent person before using it again. If it doesn't, move away from the grill immediately and call the fire department.
After cooking, be sure to completely close the valve on your grill.
Don't cover or store your grill until it has cooled.
Never store your propane tanks indoors, or under or near your grill. Be sure to keep your propane tanks upright and away from sources of heat and ignition.
Talk to your neighbors about the importance of safe grilling. Be sure their gas grills and propane tanks aren't being stored and used near to your home.
Review your homeowners insurance regularly. In the unlikely event of a grill fire causing damage to people or property, your homeowners insurance will most likely provide financial protection due to fire being a covered peril.
Keeping safe while using a propane gas grill doesn't have to be a challenge. By taking a few simple precautions and carrying the right homeowners insurance coverage, you can help protect against the dangers of outdoor grilling.
Not sure if you have the right homeowners insurance coverage for your Long Island or New York and New Jersey area home? Contact our insurance agents to find out more about your insurance options.